We offer 15 guest rooms of Bouzantei Kotobuki that range from calm Japanese-style rooms to Japanese-Western mix rooms.
You can relax in a calm and quiet Japanese-style room, while enjoying the great view outside the window.
AMENITIES

Tea set, refrigerator, hair dryer, individual A/C, washlet, soap, bodysoap, 2-in-1 shampoo, toothbrush and toothpaste, bath set, towel, bath towel, yukata, slippers, safe

The 100% spring water in the bathtub is maintained between 41-42℃. We have had a lot of guests who praised the water saying that they thought it was lukewarm at first, although they ended up being sweaty and warmed from the inside. The hot spring water has been known to have treatment effects.

[Efficacy] Neuralgia, a feeling of cold, exhaustion, arteriosclerosis, rheumatism
[Spring color, spring quality] Clear, simple hot spring, Kakeyu Onsen mixed spring (the combination of No. 2.3.4.5.6 springs)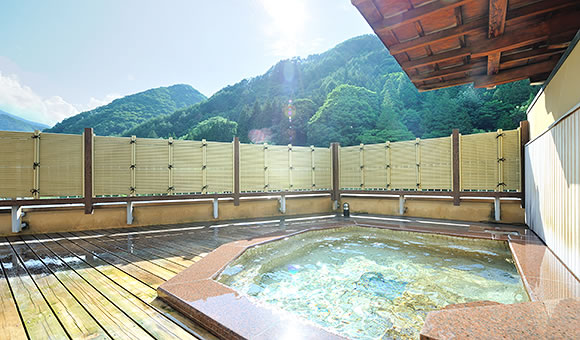 Observatory open-air bath
"morinoyu"

You can enjoy a great view surrounded by mountains during the day and look up at the starry sky at night soaking in our observatory open-air bath, "Mori no Yu". The scenery changes its expression between the day and night. Please indulge yourself in the smell of cypress trees and the beauty of nature.

Hours
AM 5:00 - 7:00 For menユs use only
AM 7:30 - 9:00 For womenユs use only
PM 21:30 - AM 4:30 For individual use only
Although you donユt have to make a reservation to use the bath privately, please make sure to enter the room when itユs vacant and lock the door. The maximum amount of time you can keep the bath all to yourself is 30 minutes.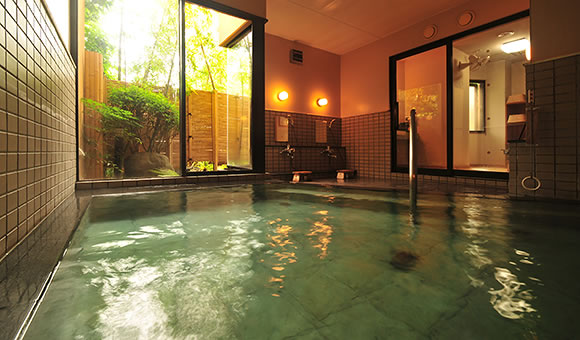 Common bath

You can view the small garden from both men's bath and women's bath. Towada stones are used to decorate the inside of the bathtub. We have a masu container for guests to drink spring water with, so please feel free to use it. Handicapped guests are recommended to use the handrail and the steps to be able to get into the bathtub safely.

Traditional Japanese Kaiseki dinner that uses fresh ingredients from local mountains, villages and rivers. At Bouzantei Kotobuki, we grow our own vegetables during summers and only use locally-grown vegetables, including bamboo shoots, mushrooms and wild vegetables picked by the chef in the mountain as well as freshwater fish fished by the hotel owner.